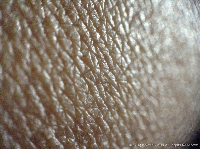 Be kind to the skin you are in
At Happy Horizons, skin is very important to us. We love skin. We think skin is amazing. And we want to help you look after it. So let's talk about skin and organic products.
Skin is so much more than a wrapping around our body which keeps out pathogens. This is how it was thought off until recently. We now know that our skin is semi-permeable. In other words, it can and does absorb chemicals, taking chemicals from the outermost layer through the deeper layers and into your blood and lymph system.

If you are sceptical ask yourself 'how do hormone replacement patches and nicotine patches work?' The hormones and nicotine must go through the skin or the patches wouldn't work. What about oestrogen creams and any of the other drugs than are now being administered using skin patches?


We KNOW for sure that chemicals go through the skin into the body. But even knowing this, there are still no requirements for manufactures to do any safety testing whatsoever on the chemicals used in personal care products (like deodorants, toothpaste, shampoo, creams etc). You might want to read that sentence again, just to make sure you understand …. there are no mandatory safety tests for any chemicals used in personal care products. Is anyone else surprised by this? Keep this in mind when you read product labels.
There are some voluntary guidelines for safety testing chemicals, but in our view these are inadequate, focussing mostly on short term exposures in healthy people. According to the EWG, (www.ewg.org), less than 15% of the thousands of ingredients used in personal care products have undergone any kind of safety testing at all. Are you surprised by this?


You may think that organically certified products are safe. You pay much more for them so they must OK, right? Well, what exactly does the organic certification really mean? Did you know that ecocert organic products are allowed to have up to 5% non-organic plant material? So while this is an improvement over 100% non-organic products, it still allows nasty pesticide residues to be present in organically certified products. Are you surprised by this?

And did you know that ecocert also permits the use of some synthetic ingredients? Benzyl alcohol is a ecocert permitted preservative, yet the Material Data Safety Sheet on benzyl alcohol notes that it is a skin irritant, potentially causing redness and pain, as well as an eye irritant. Prolonged or repeated exposure can cause allergic contact dermatitis. Surprised?


According to the Ecocert website, their preservative-free additive Phenethyl alcohol is "judged safe for use in cosmetics to 1.0 %." So what happens if you use a lot of the product containing this additive? Or if you use two or more different products each containing 1% of this additive?
At Happy Horizons we would rather use ingredients known to be safe at any concentration.
Remember, there are no mandatory safety tests and it could take years before any evidence of harm comes to light.
So we believe that it isn't good enough just to avoid a few known nasties. If you have sensitive skin, try our unscented products which contain only a few carefully sourced ingredients which are generally regarded as safe at any concentration. Why take the risk?